May 26- June 2, 2001

The idea: Two Brothers, Two Bikes, 2,000 miles each way.
Garrett and I plan an annual trip to ride together. We had made a ride earlier from Austin to El Paso and back over the Christmas / New Years holiday as a trial, and were working our way to the larger rides for more distance. The trip to El Paso included a short jaunt into New Mexico. Garrett and I thought about it, and agreed that a trip to Sin City would be the perfect cross country trip for us to stretch our legs on. Outside of going to Vegas and returning alive, I don't know that we had much of a plan . . . as this story will make painfully evident.

Here we are Saturday Morning, May 26. It was about 2 in the morning, cold, with us delighting all of our neighbors with the tunes of two loud bikes warming up. We tried to keep it quiet, but hey - it doesn't always work out that way. We managed to pull off before getting shot at or the cops arriving. The plan was to go to breakfast in Austin, ride to Las Cruces, New Mexico and crash out and then head to Vegas on day two - notice the amount of protection we are wearing from the cold - it wasn't enough. Garrett and I learned that testicles will actually try to run up inside a man's body if given a chance, and we also learned that the bugs that hang out by the road from 2am till 6am are large and burst into a rainbow of colors upon impact.
After breakfast at the local IHOP in Austin, along with the usual exposure to the "Austin Wildlife" that is dining at 2:30am we headed out. Not many pictures from the first few hours, mainly because we were freezing. We did stop at numerous gas stations that were closed (credit card pumps are lifesavers). While at the gas stations, we admired bugs the size of our shoes being eaten by other bugs, and those bugs then looking lustfully at our bulbous gas tanks. We decided haste was in order, and made it as quickly as possible.
Around El Paso we found a cruelty to animals exhibit titled "See Wild Tigers." Apparently, being chained to a post with chicken wire surrounding you qualifies as "wild."

During the 8 or so hours it took to get from Austin to El Paso our bikes had gone from too cold to overheating. Prior to this picture, we had to stop at an overpass so Garrett's bike could cool down. On the other hand, we had been averaging 105 for most of the trip. We decided to stop, pee, let the bikes cool off, and soak in some of the culture that has given Texas the world class reputation it has. Here Garrett is, wearing black in 110 degree heat. Those who wonder why he is so slim need wonder no longer. On the upshot, he did discover that by wearing black all day on a motorcycle he can greatly reduce the number of times he has to make pit stops.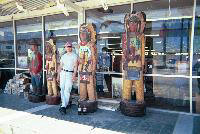 Here I am, desperately trying to cool off. Note the groovy 2 day beard, as well as the do-rag hiding both my male pattern baldness and my unwashed hair. At this point, I smelled like day old work clothes - not unbearable, but not Sunday best to be sure. I had no idea how interesting the olfactory experience would become before it was all over.